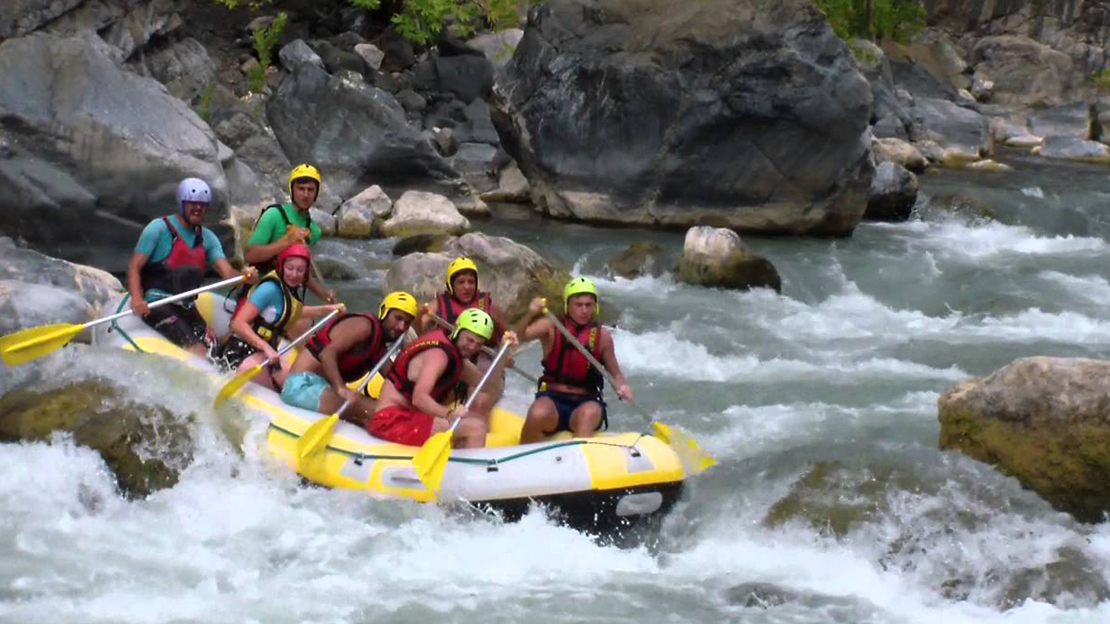 You can buy this tour on our e-commerce site.
Get away from the crowds and the bustling atmosphere of Bodrum with an alternative outdoor activity. The Bodrum Rafting Tour is among the best available options if you seek to combine adventure in a wonderful natural setting. This experience is also ideal for people wishing to increase their adrenaline levels, but also for those who seek to spend some fun moments full of laughter with their loved ones.
| Tour Details

Departure & Return Location:
Bodrum Hotels (door to door service)
Tour Times
06:00
Availabilty Days:
Tuesday - Friday
Tour Guide:
English
Hotel Transfer:
Yes


| Highlights
Enjoy the beautiful natural scenery of the surrounding canyons while splashing down drops and around giant boulders

Explore some unknown parts of the country that most tourists do not get to see

Feel the adrenaline and be thrilled as you admire amazing views

Enjoy an activity that is perfect for everyone in the family

| What's Included
Free Hotel Transfer

Guiding Services

All Equipments

Full Insurance

Breakfast

Lunch


| What's Excluded
Personal Expenditure

Drinks

DVD


| Don't Forget
Guests are Required to be minimum 17 Years of Age.

Unfortunately, it is not suitable for people with mobility limitations.

You must be able to fit into the safety equipment in order to participate.

Sun Creams, Sun Glasses, Swimming Costumes, Towels, Comfortable Shoes or Sneakers that can be warn in the water (No flip-flops), T-shirt to wear under your life-jacket, Spare clothes for the end of the trip.


| Itinerary
Bodrum Rafting Tour offers the adventure of rafting on the Koprulu Cay and Dalaman river. You get to choose between a 6-10 persons raft and a two-seater canoe. After some basic instructions, paddle practice takes place on a quiet stretch. Rafting is an all-day activity, including the drive back and forth to your Bodrum hotel, as well as a delicious lunch.
06:00 am- 18:00 pm


| Tour Program
Pick Up: In order to make your experience ore pleasurable, a modern and fully air conditioned car will pick you up from your place of accommodation in Bodrum. Pick up takes place during the morning time. Members of our team will transfer you to Dalaman River, which is the starting point of this activity.
Introductory Briefing: Professional and experienced rafting instructors will welcome you at the rafting station. In case this is your first rafting experience, there is nothing to worry about. The professional instructors will explain everything you need to know about rafting. In addition, the instructors will mention all the safety procedures and demonstrate how to use properly th rafting equipment.
Rafting Experience: For the purposes of this thrilling and adrenaline-boosting activity, you will have the opportunity to enjoy a 3-hour rafting session in Dalaman River. The foamy and splashy waters are able to upgrade your whole experience and give you some extra boosts of excitement. Set yourself free to enjoy the power of nature while creating bonds with your friends and family through your teamwork.
Short Stops: During the rafting session, few stops are scheduled so that you can relax and admire the scenery. More precisely, a stop will take place at the ancient bridge of a charming and picturesque village. In addition, other stops are also included during which you can rest, swim into the river and listen to the sounds of nature
Meals: This full day excursion includes a delicious breakfast that will be served before starting the rafting experience. In the middle of the rafting session, you will have a lunch break in Akkopru village.
Professional Photos: The professional rafting instructors will accompany you for the whole duration of the rafting session. Except from providing assistance, they will also be in charge to snap some nice photos of you. At the end, you may purchase these photos at an extra cost.
Return: When you finish the rafting, a comfortable vehicle will transfer you back to your hotel in Bodrum. With a sense of sweet tiredness, but full of excitement, you will arrive to your hotel during the afternoon.