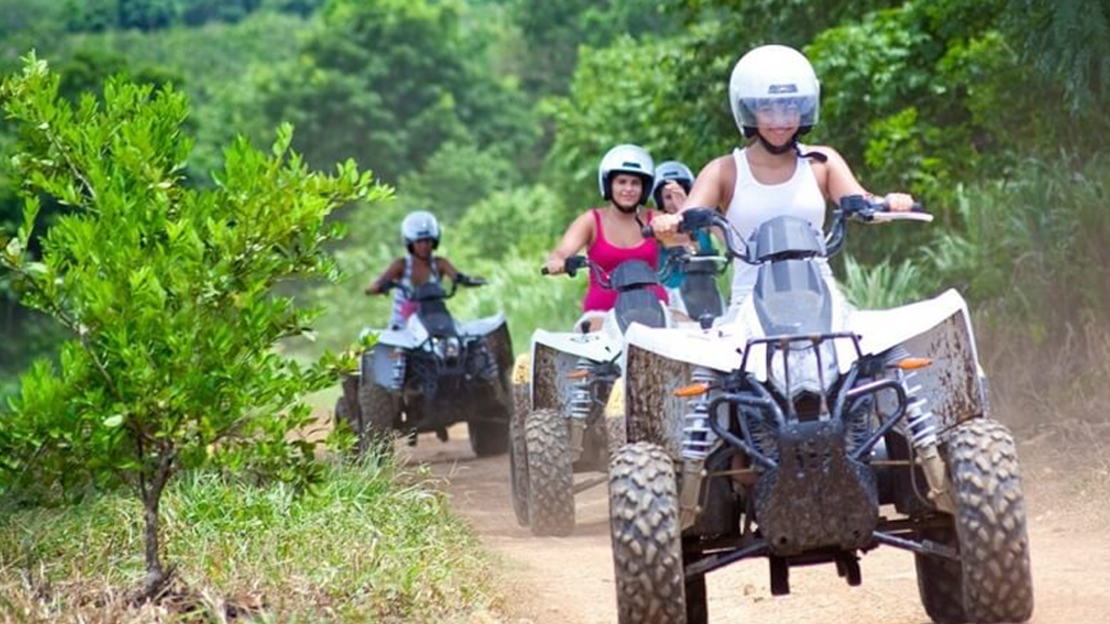 You can buy this tour on our e-commerce site.
Quad Safari is an alternative way to explore the beautiful and tranquil setting of Bodrum's countryside. Although there are many ways to explore the peninsula's mountains, Quad biking can offer you a thrilling and adrenaline boosting experience. This half-day Quad Safari is an amazing way to spend few hours away from the crowds and create some fun and joyful memories with your friends or family.


| Tour Details

Departure & Return Location:
Bodrum Hotels (door to door service)

Departure times:
11:00 -14:00 Seans

14:00 -17:00

Seans

Availabilty Days:
Everyday

Tour Guide:
English

License:
No Licenses Needed

Tour Duration:
3 Hours

Hotel Transfer:
Yes


| Highlights
With double tour departure times to suit your schedule

Hassle-free pickup and drop-off from all Bodrum hotels

Escape the crowds in Bodrum and explore the country side of the Bodrum Peninsula

Experience the thrill of mastering a quad bike and join us on this exciting day bound to be the highlight of your holiday

| What's Included
Free Hotel Transfer

Guiding Services

Full Insurance


| What's Excluded
Personal Expenditure

Photo&DVD

Drinks


| Don't Forget
We reccomend you to bring extra clothes with you as you will get dirty within this excursion. You can use showers at our facility to clean afterwards.

Sun Creams, Comfortable Shoes or Sneakers, Sun Glasses, Spare Clothes, Camera.

Don't forget to protect your electronic equipment from dust and water.

Children under 18 can only ride on the same vehicle with their parents.


| Itinerary
There is no reason for you to fear for your safety, as our skilled safari drivers will be there for you during on this whole lively adventure. Our Bodrum Quad Safari plan includes driving your fun vehicle on dust and dirt laden tracks, as well as the 40 acres of land, where you can test your skills and instincts. In the beginning you will be driving your quads in motorcade with our skilled professionals driving first and last. This is just a safety measurement to ensure that, later on, you can fully experience this amazing adventure by yourself.
11:00 – 14:00 Seans
14:00 – 17:00 Seans


| Tour Program
Pick Up: Upon booking, members of our team will inform you about the pick-up time from your hotel in Bodrum. The pick-up service takes place during the morning hours. A comfortable car will drive you for 20 minutes towards the quad bike station. Expect some nice views of the forest during the road trip.
Introductory Briefing: At the quad bike station, professional and fully licenced instructors are in charge to welcome you. With an interesting introductory briefing, the instructors will answer all of your questions. They will let you know how to drive and control the bike, and inform you about the safety procedures and equipment. Once the briefing is over, you will have the chance to practise some driving before the actual experience.
Quad Biking: In general this excursion lasts for 3 hours. After the introductory briefing at the station, you will start driving your quad bike in the specially designed area. Accompanied by the instructors, you will have the chance to drive into the 40 acres of land that is perfect for such an activity and exercise your driving skills. The wind beauty of nature and the physical obstacles the quad safari path has will upgrade and enhance your experience.
Prior-Experience: In case this is your first quad safari, there is nothing to worry about. If you wish to join, please be aware that there is no need for prior experience. In addition, there is no need to possess a driving licence. Everything will be properly explained by the professional instructors.
Photos & DVDs: As you drive and enjoy this thrilling driving experience, the quad biking instructors will be snapping some photos of you and your loved ones. By the end of this experience, you can preview and purchase them at an extra cost.
Return: After spending some time driving into the quad bike terrain, you will need to return back to the quad bike station. There, a fully air conditioned and modern car will transfer you for 20 minutes back to Bodrum. Full of positive emotions and great new images you will return back to your hotel after approximately 3 hours.