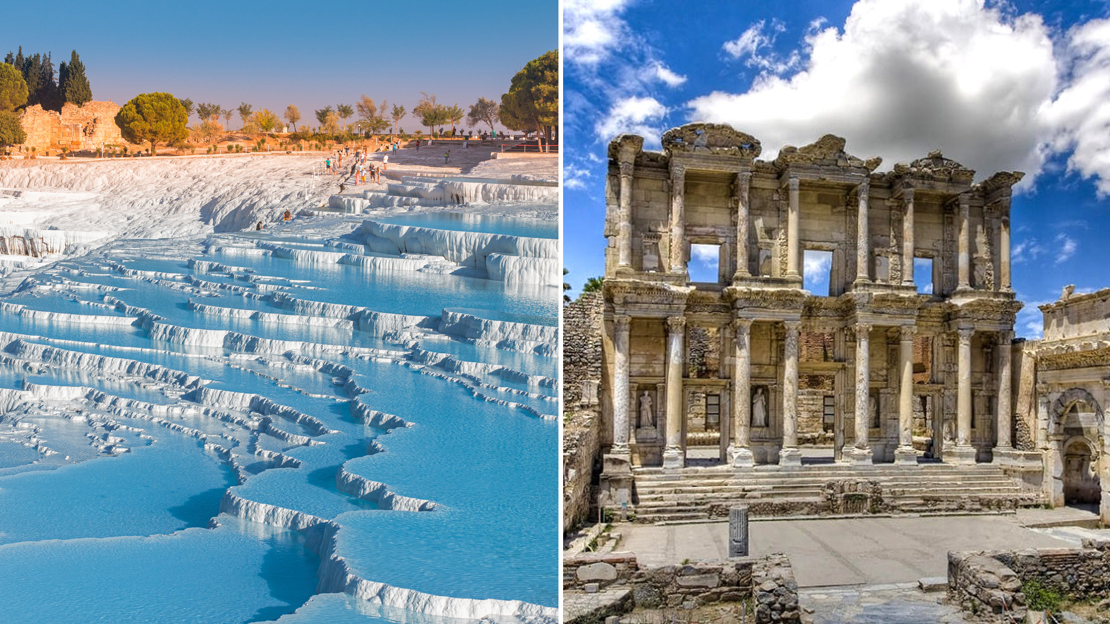 You can buy this tour on our e-commerce site.
If you are passionate about sightseeing and wish to visit interesting and important sites, then this Ephesus and Pamukkale Tour is ideal for you. Starting from Bodrum, this excursion enables you to visit two of the most known locations in Turkey, Ephesus and Pamukkale. Visit important archaeological sites, and appreciate and understand the beauty and the power of nature. Unfold the history and relax in thermal springs. This 2 day excursion is ideal for people of all ages and covers multiple interests.

| Tour Details

Departure & Return Location
Bodrum Hotels (door to door service)
Prıvate Tour
For couples or Families
Available Days
Anyday & Anytime
Tour Duration
2 Days
Tour Guide
Englısh
Hotel Transfer
Yes


| Highlights
Explore UNESCO Heritage sites of the Ancient Ephesus and Pamukkale on these two very special days
Enjoy the scenic forests and country villages on the journey to Ephesus & Pamukkale from Bodrum
Accommodation in small hotel very close to Pamukkale to refresh yourself for the second day
Enjoy your full package tour and feast on delicious buffet meals in these two days
You will be accompanied by a licensed tour guide in these two days


| What's Included
Second Day Breakfast
Hotel Accomodation
Free Hotel Transfer
First Day Dinner
Guiding Service
First Day Lunch
Full Insurance

| What's Excluded
Ephesus & Pamukkale Entrance Fees
House of Virgin Mary Entrance Fee
Cleopatra's Pool Entrance Fee
Personal Expenditure
First Day Breakfast
Second Day Lunch
Drinks

| Don't Forget
Towels, Swimming Costumes, Sun Cream, Sun Glasses, Camera, Comfortable Clothing, Comfortable Shoes, Hat, Overnight Bag.
Children will be asked to present their valid passports at the entrance of the museums in order to validate their age.
Vegetarian alternatives are available for lunch. Please make your request when booking.
Unfortunately, it is not suitable for people with mobility limitations.


| Itinerary
If you're up for some adventure and some fascinating sightseeing, this delightful two day Ephesus and Pamukkale Tour has everything you could possibly expect from a holiday.
07:00 Departure from Bodrum
08:15 Breakfast (Bafa lake/30 minute)
10:30 Gold centre (Galata gold centre/Selçuk/1 hour)
11:30 Ephesus antique city
13:45 Lunch (Sultan Restaurant)
15:15 Departure from Selçuk
17:30 Pamukkale Hotel
Free time
19:00 Dinner
08:00 Breakfast in the Hotel
09:30 Pamukkale (Hierapolis antique city)
Free time in Pamukkale
13:00 Lunch
14:30 Onyx factory
15:30 Departure from Pamukkale
17:30 Cns (Break 30 minute)
19:30 Arrival Bodrum


| Tour Progra


Day 1
Pick Up: Very early in the morning, a comfortable car will pick you up from your hotel in Bodrum. A tour guide will be there for you to offer you interesting descriptions about the sites and assist you in case you need.
Breakfast: At a local restaurant, close to the charming and beautiful Bafa Lake the bus will stop for a breakfast. The open buffet breakfast will give you the necessary energy to continue your exportation.
Selcuk Town: In order to make your road trip more comfortable, another stop will take place at Selchuk town. There, you will visit a Turkish delight factory where you can learn interesting facts or purchase some tasty locums and baklava.
Ephesus Ancient City: The next stop takes place at the infamous ancient city of Ephesus. This city used to be the second most important one after Rome, during the Roman times. The upgrades aesthetics and the exquisite architectural style will make you fall in love with Ephesus. The city has a variety of interesting sites such as temples, theatre, and houses with mosaics. In Ephesus, you will also visit the ruins of the infamous Temple of Artemis, which is one of the 7 wonders of the ancient world.
Lunch Break: After visiting the house of Virgin Mary, which is also located in the broader area of Ephesus, the bus will transfer you to Selcuk. At a local restaurant, you will taste some delicious recipes during your lunch break.
Hotel in Pamukkale: By the end of the lunch in Selcuk, the bus will continue towards Pamukkale. The schedule of the first day finishes when you arrive at a small, yet charming hotel in Pamukkale. Take your time to rest and have some fun moments during the evening.
Day 2
Breakfast: The second day of this excursion begins with a tasty and freshly made breakfast at the hotel, before the check out from the room.Sightseeing in Pamukkale: The day includes an amazing sightseeing in Pamukkale. The area is listed as an UNESCO site of world heritage due to the natural wonders and the archaeological sites that has. In Pamukkale, you will visit the Cotton Castle and admire the breath-taking backdrop of the terraces that are filled with thermal water. The guide will also take you to the ancient city of Hierapolis to observe the ruins and learn the history of this ancient settlement.
Lunch: After spending some hours in Pamukkale, you will have a delicious lunch at a local restaurant. Take this opportunity to enjoy some tasty recipes and relax in a cosy setting.
Return: Energized and relaxed from the lunch, the bus will start driving you back to Bodrum. Arrival back to your hotel in expected during the afternoon.