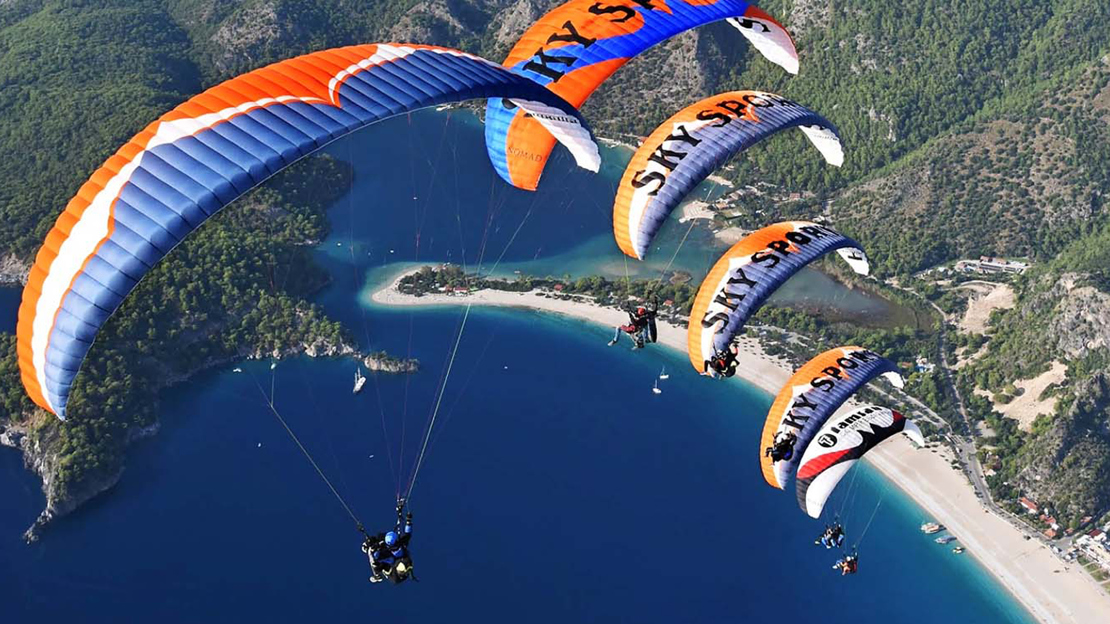 You can buy this tour on our e-commerce site.
Get away from the crowds, and the bustling atmosphere of Bodrum, and grab your chance to experience an alternative outdoor activity! Our Paragliding flight from Bodrum promises wonderful panoramic views, increased levels of adrenaline, lots of laughter, and positive vibes! So, what are you waiting for?


| Tour Details

Departure & Return Location:
Bodrum Hotels (door to door service)

Deperture time:
09:00 – 14:00

Flight Tımes:
Up tu 30 minutes

Availabilty Days:
Everyday

Tour Guide:
English

Experienced Pilots:
Best Pilots

Hotel Transfer:
Yes


| Highlights
Experience tandem paragliding over the fascinating views of Ören with a professional pilot

Enjoy the scenic forests and country villages on the journey to Ören from Bodrum

Benefit from hotel transfers and insurance, included within the tour price

Use top-of-the-range paragliding equipment

| What's Included
Hotel Transfer

Training Service

All Equipments

Full Insurance

What's Excluded
Personal Spendings

Foods & Drinks


Additional Services

| Don't Forget
Comfortable clothing, sturdy and comfortable shoes (trainers or boots), sunglasses, bottle of water.

Please notice that Fethiye paragliding flight may be cancelled due to the bad weather conditions. In this case your flight is cancelled, you will get full refund or we can reschedule it for the closest possible date.
| Itinerary
Don't miss this wonderful opportunity to take a day off from your busy schedule and have an innovative and relaxing cross-country expedition. Reserve now and have a memorable adventure of your own.
09:00 -14:00


| Tour Program
Pick up: You may join our Paragliding flight on any day of the week suits your schedule the most. The action takes place at Oren, a seaside resort that is 60km away from Bodrum. For this reason, members of our team will pick you up from your hotel in Bodrum in the morning. It takes, almost, one hour to reach Oren, but along the way you can observe some nice views, or relax, and get ready for the flight.
Instructions & equipment: At the take-off site, you will receive an introductory briefing on paragliding. Professional and fully certified pilots are about to explain everything you need to know about the flight, and answer your questions. They will, also, provide the safety equipment, and help you get ready for the flight. In fact, a pilot will be with you during the flight, to ensure a smooth and joyful experience, by attaching his uniform to yours.
The flight: The flight starts when you start running towards the end of the cliff. After a few meters, you will find yourself flying. As the adrenaline starts filling your body, let yourself free to empty your thoughts, and enjoy every single moment. Below, you can observe thrilling views of the bay. In fact, paragliding is the best way to have panoramic, bird's eye views over the area. If you are worrying about missing them, we've got you covered! The pilot will be taking photos of the whole experience. The flight lasts for, almost, 20 minutes, but it is subject to the weather conditions.
Landing: At the ground, instructors will be waiting to assist for a smooth and safe landing process. Upon landing, you can preview the photos that the pilot snaped, and purchase them at an extra cost. In the area, you can find restaurants and cafeterias to spend some time and relax.
Non-flying guests: Paragliding is a lifetime experience that you don't want to miss. For this reason, your friends or family, who are not intended to fly, are welcome to join as observers. Please note that, non-flying guests pay for the transfer fees.
Return: Once this memorable activity is over, our vehicle will transfer you back to Bodrum. Expect to arrive at your hotel in the afternoon full of excitement and cool memories.