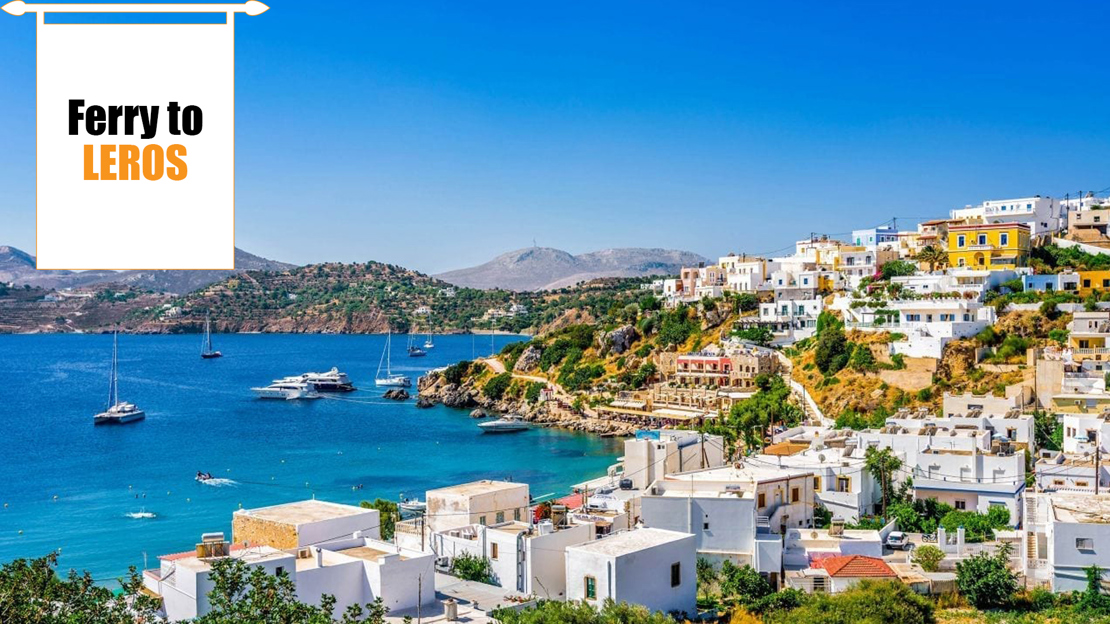 You can buy this tour on our e-commerce site.
| Tour Program
We go to Leros after about an hour and a half by ferryboats departing from Turgutreis.
Leros is one of the islands in the Southern Aegean region of Greece, which is divided into 13 regions, and is also connected to the regional unit Kalymnos.
Leros Island, also known as Ileryoz Island, combines the beauty of a classical Greek island with little popularity, making it a hidden paradise. In other words, it not only reflects that deliciously authentic atmosphere to its guests, but also presents them with a holiday away from the chaos, crowd and noise, which they will love and relax.
Moreover, Leros has nothing short of other islands. Its sparkling sea, stunning landscapes, whitewashed shores and deep-rooted history make it a true classical Greek beauty. Visit Leros Castle, built by the Byzantine Emperor Komninos in the 11th
century. Let's not forget that you have to climb 400-500 stairs to get here alone.
Agios Isidoros Church and Visit the Church of Agios Efthimios.
Enjoy the swimming experience in the magnificent corners of Leros such as Panteli Beach, Blefoutis Beach, Dio Liskaria Beach, Vromolithos Beach, Krithoni Beach, Hirokambos Beach and Gourna Beach, where tourists meet with its azure and sparkling waters.
| Tour Details


Departure & Return Location
Meeting point Turgutreis port
Destination
From Turgutreis
Departure Time
08:30
Tour Times
08:30-17:00
Boat Type
Fast Catamaran
Availabilty Days
Wednesday-Saturday-Sunday
Hotel Transfer
No


| Highlights
Explore the Greek island Leros for a day during your stay in Turkey

Have a full free day in Leros to explore, shop and dine


| What's Included
Ferry Ticket (Both Ways)

Full Insurance

Tax of Port


| What's Excluded
Personal Expenditure

Drinks

Food


| Don't Forget
It is highly recommended that you bring sunscreen, a hat and a bottle of water.

The catamaran may not operate in bad weather conditions.

Don't forget to bring your passports.


Same Day Return Ticket: Tour will leave Bodrum Turgutreis in the Morning and after visiting Kalymnos, you will get back to Bodrum in the same day.
Open Ticket: You will go to Leros in the morning and can stay as long as you want in Leros Return to Bodrum at any day you want.
One Way Ticket: This ticket type is only one way.