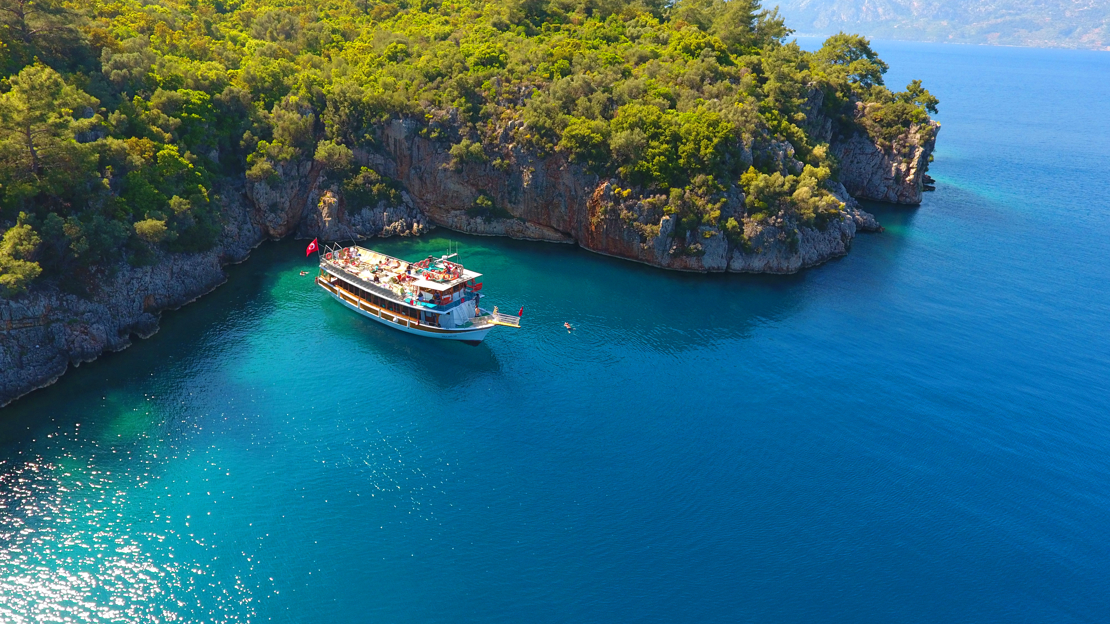 You can buy this tour on our e-commerce site.
The coastline of Bodrum has some incredibly beautiful and secluded bays with crystal clear waters. Several boat trips are available to visitors who wish to spend a day in the sea and discover these bays. However, there is one particular excursion that is able to upgrade your experience and offer you long lasting memories.Private Boat Trip around Bodrum is ideal for those who wish to enjoy a boat trip away from the crowds. It is also the perfect option for those seeking romance and privacy.


| Tour Details

Departure & Return Location
Halikarnas port

Meeting Point
Director Tour Office

Departure Time
10:00 -16:00 – 14:00 - 20:00

Availabilty Days
Eveyday

Private Boat
Confort Boat

Hotel Transfer
No


| Highlights
Take a break from crowded cruises and rigid tour schedules with this private boat tour

Enjoy snorkeling in the area's many small natural harbors or even try your hand at fishing

Book your boat for any day and any time and once you're on board, use your time the way you want

Soak in Aegean Sea or sunbathe on the deck, sail around Bodrum's coastal landmarks for some great photo opportunities

| What's Included
Private Boat Trip

Lunch Or Dinner

Full Insurance


| What's Excluded
Drinks

Transfers

Other Personal Expenses

| Don't Forget
Towel, Swimsuits, Hat, Sun Cream, Sunglasses, Camera.

Bring your camera and your smile, Your evening will be great!

We have boats on Halikarnas, Gümbet, Bitez harbours. We will inform you about the boat location and details after the booking.

This is a private tour organized for you. Our boats have the capacity between 1 to 7. If your group is more than 7 people, please contact us before booking as the price will be different.


| Itinerary
As this is a private boat trip, interested participants are able to choose the day and time that suits them the most. Thus, this excursion can be conducted on a daily basis during morning, afternoon and evening. Upon booking, please specify your preference in an effort to allow our team to prepare a truly magical experience for you.On the day of your boat trip, you need to arrive at the Halikarnas port, which is the meeting point. Members of our team will guide you to the boat and let you know the final details of this private excursion.
10:00 Director Tour Office
13:00 Lunch
16:00 Arrival Bodrum
OR
14:00 Director Tour Office
18:00 Dinner
20:00 Arrival Bodrum
| Tour Program
Revitalize your senses and allow yourself to relax with a private and exclusive boat trip around Bodrum. Private Boat Trip is specially designed to provide the maximum comfort and pleasure while taking you towards the most stunning bays of the area. Enjoy romance, idyllic setting, swim into turquoise waters and spend some quality time with your loved ones while on holidays.
Private experience: This experience is offered upon request and allows you to choose the day and time of your preference. Thus, you are able to choose between morning and evening cruise depending on your needs, expectations and interests.
Meeting point: The members of our team will inform you, upon booking, about the time you need to be at the meeting point. On the day of your excursion, you need to arrive at the Halikarnas harbour, from where the boat departs.
The boat: For this excursion, you will be travelling with a spacious and comfortable boat. Inside the boat, there is a cabin where you can change clothes, toilets and shower. The outdoor area features a front deck with cushions where you can relax or sunbathe. A bar is also available in case you wish to enjoy some refreshing drinks.
Full Day Boat Trip: Your experience will last for almost 6 hours, during which you will be sailing around the peninsula. The coastline around Bodrum has many unspoiled and secluded bays where you can stop to enjoy the setting or swim into the turquoise waters. During the swimming stops you can also enjoy snorkelling as the area is known for having an exceptional variety of fishes to observe.
Relaxation: Except for the swimming stops and the playful moments, you may also enjoy some much-needed relaxation. The front deck is the ideal spot to enjoy some breath taking views, take some photos or simply read a book while listening to the splashing sound of the water.
Meal: Depending on the time of your cruise, a meal either lunch or dinner will be served aboard. The professional staff of the boat will prepare a tasty menu for you that include starters, salad, pasta and a main course.
Return: Bodrum Private Boat Trip has an approximate duration of 7 hours. After spending 7 hours sailing around, the boat will return back to the port. Once you arrive there, you will be full of great images and long lasting memories from this all-exclusive and private experience.