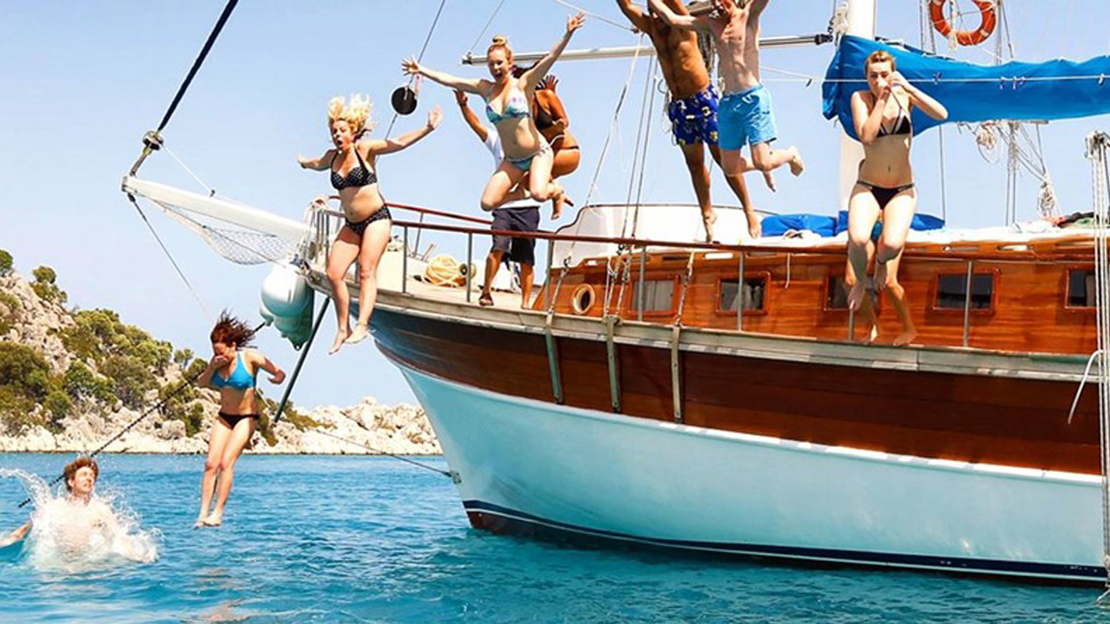 You can buy this tour on our e-commerce site.
If you are looking for an astonishingly beautiful and relaxing getaway from your every-day city turmoil, Black Island Boat Trip has exactly the offer you need. Enjoy a wonderful cozy cruise through the turquoise waters of the Aegean sea, and feast your eyes on the captivating scenery all around you.

Our Bodrum Boat Trip starts 10:30 our Office. Followed by a short and comfy ride to the port. Once, you arrive you will board our lavish double decked boat and head out to the open sea. We will take several breaks in some beautiful bays, so you can take a swim, snorkel, sunbath, or just enjoy a lovely warm breeze lying on the beach.


| Tour Details

Departure & Return Location
Halikarnas port
Meeting point
Director Tour Office
Tour Duration
10:30/17:30
Boat Type
Comfort Boat
Hotel Transfer
No


| Highlights
Escape the crowds of Bodrum for a relaxing day at sea

Experience the beauty of Turkey's Aegean coast on a full day boat tour from Bodrum
Enjoy hidden bays and beaches, go swimming and snorkeling in the turquoise sea, and discover the coasts from the sundeck

| What's Included

| What's Excluded
Personal Expenditure

Other Drinks

Snacks

Hotel Transfer

| Don't Forget
Don't forget to protect your electronic equipment from dust and water.

Towels, Comfortable Clothing, Comfortable Shoes, Swimming Costumes, Sun Cream, Sun Glasses, Camera, Hat.

We can offer transfer for you with a fee.

Please note that we have three different packages for this excursion. Guests will be assigned to the Orak ısland and Prıte" boats.


| Itinerary
Our first break is usually at the Aquarium bay where you will be able to take your first dip in its crystal blue waters. Kara Aida, more familiar as the Black Island, is the next regular stop on every all-inclusive boat trip. Black Island is the biggest island off the Bodrum coast. This magnificent island is well known for its thermal mineral springs. These miraculous springs of Grotto water are full of Magnesium, Sulphur and Calsium, which are great for your skin and health in general. Water in these springs is just a tad warmer than the sea water, with pleasant 32 degree celcius. You will be able to take a swim in these fascinating thermal springs for a small fee. Black Island is also a regular stop for yachts and gullets (typical Turkish boats), sailing around the Turquoise Coast.
10:30 Director Tour Office
11:00 The boat trips begin
13:00 Lunch
17:30 Arrival Bodrum
| Tour Program
Escape from the ordinary and avoid the vibrant atmosphere of Bodrum, by joining an exquisite and ultra-relaxing cruise into the blue waters of the Aegean Sea. This full day Black Island Boat Trip ensures as day full of laughter, joy and pleasurable moments. Visit some secluded bays and unspoiled islands, swim into the refreshing waters of the Aegean, admire the serenity of the sea and watch some breath-taking views.
Pick Up: Meeting point in our Office at 10:30.
The Boat: For the purposes of this magnificent cruise, you will travel with a spacious, double deck boat. The comfortable front deck is the perfect spot for the sun-seekers and for those who wish to relax. The boat is fully equipped and has professional crew who are ready to pumper your needs.
Aquarium Bay: During this boat trip, several swimming stops are included. The first one takes place at the infamous Aquarium bay. This spot features crystal clear water that given you the feeling that you are swimming in an aquarium. A feast for your eyes, this bay is definitely a natural wonder.
Black Island: Another stop is scheduled to take place at the Black Island. This particular location is known for its thermal springs that have increased concentration of minerals. The magnesium, sulphur and calcium that the water has, can offer great benefits to your skin and muscle pains. If you wish, you can enter the springs at an extra cost.
Meteor Pit: This pit has been created due to a falling meteor, is one of the most attractive place you will visit with our Bodrum Boat Trip. The water around the pit is at a depth of 20 meters and it is so clean and clear that it attracts our guests.
Lunch: At the boat you will enjoy a delicious and freshly made lunch. Our delicious menu usually includes a fresh salad, grilled chicken and rice or pasta.
Rabbit Island: Another amazing swimming stop takes place at the Rabbit Island. This beautiful and unspoiled bay has an amazing sandy terrain. If you are lucky enough, you may also observe some rabbits in the bay.
Return: This full day and all-inclusive cruise in the Aegean Sea, finishes during the afternoon hours. Just before the sunset, the boat will return back to the port.