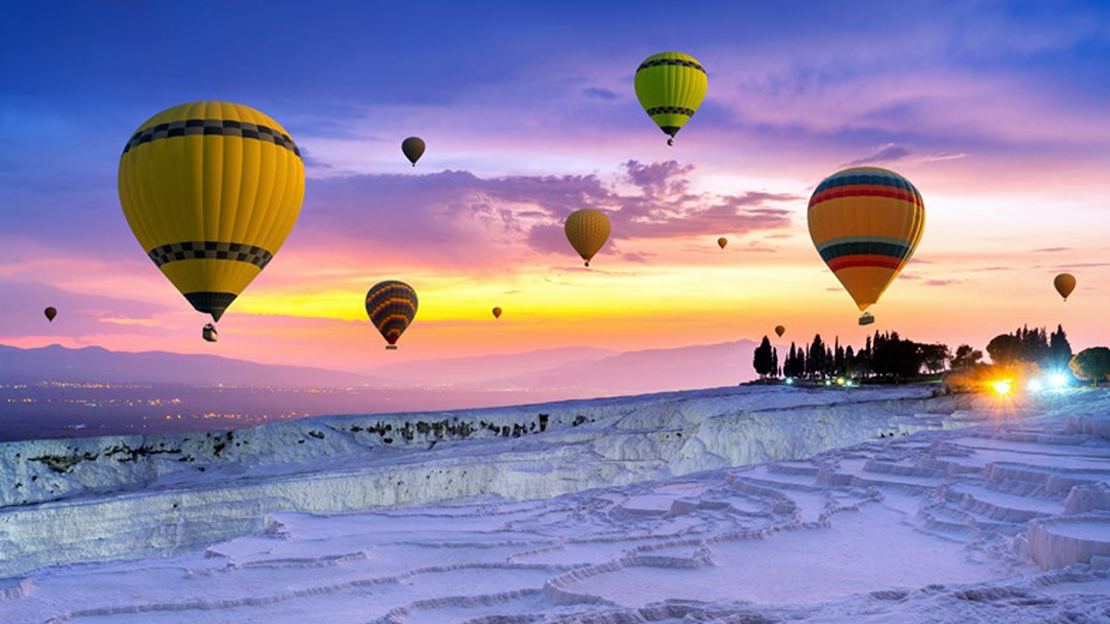 You can buy this tour on our e-commerce site.
Balloon Tour is organized regularly through all year long. Excursion Mania is running these regular balloon flights at Pamukkale through year in good weather conditions.
You can join this tour from Bodrum as well, we will transfer you from Bodrum to Pamukkale with VIP Mercedes minibuses (Mercedes Vito – 6 Seats). The drive from Bodrum to Pamukkale takes around 3 hours. We will pick you up from your hotel early in the morning (around 02:00 in the morning) to be at Pamukkale before the sunrise. This is the price that we will charge for the vehicle. Even you are a single person or six people the price will be the same.


| Tour Details

Departure & Return Location
Bodrum Hotels (door to door service)
Departure Times
02:00 am
Tour Times
Morning Flight 02:00 am – 16:00pm
Availabilty Days
Eveyday
Delux Baskets
Yes
Tour Guide
English
Hotel Transfer
Yes


| Highlights
Enjoy the scenic forests and country villages on the journey to Pamukkale from Bodrum
After the flight you will have free time at Pamukkale to explore the site on your own
Fly in a hot air balloon over the world-famous Unesco site of Pamukkale
Enjoy the magnificent view over Pamukkale landscapes during sunrise

| What's Included
Certificate & Champaigne Toast
Safety Briefing Before Flight
Full Insurance
Balloon Fee
Pilot Fee

| What's Excluded
Mercedes Vito Transfer fee
Personal Spendings
Food & Drinks

| Don't Forget
If there is a last minute cancellation on the day (due to weather conditions), the balloon fee will be fully refunded. Please remember that the cash payment you will make for the transfer is not refundable.
Very seldom but there can be sudden flight cancellations due to the wind, fog or some other reasons. Our pilots and local authorities are making the final decisions. Your safety is our first priority.
Please remember that we pay here only for the ballon flight, transfer fee 250 € will be charged on the transfer day.
Children under 5 years old are not allowed to participate on Pamukkale Hot Air Balloon.
If you are pregnant you shouldn't fly due to possible bumpy landings.
Extra clothes as it might be cold up there.


| Itinerary
The Hot Air Balloon flight will take around 1 hour and you will witness the beautiful sceneries of Pamukkale and the remains of the ancient city of Hierapolis. Please remember that this is a balloon and the flight time depends on many different elements. Please make sure you read this article before you make your booking – EVERYTHING ABOUT BALLOONS
02:00 am Departure from Bodrum
05:30 Arrival Flight Preparation
06:00 Ready for take-off
07:00 Landing and Champagne
Free time
13:00 Departure from Pamukkale
16:00 Arrival Bodrum
| Tour Program
This is your opportunity to fly in a hot air balloon when you're on holiday in Bodrum! This unforgettable flight cannot be explained by words, but you have to experience it yourself. We will take you to one of the best locations for hot air ballooning in Turkey. We will drive you to Pamukkale where we will fly over dozens of pools lying in white travertines and the ancient city of Hierapolis.
Pick up Service: All our guests will have a complimentary pick-up service from the hotels in Bodrum. Your day will start early with a wake up call so that you have an hour to get ready for your journey to Pamukkale. Your driver will pick you up with a fully air-conditioned Mercedes Vito minibus and drives you safely to the field where the balloons take off. The drive between Bodrum to Pamukkale will be around 3 hours.
Flight preparation: Only when the pilot is absolutely sure, the weather condition is suitable for a balloon flight the flight preparation will start. We simply will not fly if the weather doesn't allow it because your safety is always our first priority. Our experienced ground crew will prepare and inflate the balloon. After 10 to 15 minutes, your hot air balloon is ready for takeoff. Before you climb into the basket your pilot will give you some safety and landing instructions. Now you're ready for your adventure high up in the air!
Ready for take-off: Hot air balloon rides are never the same because every experience is unique. When you're up in the air the balloon will follow the sun which way the wind blows. Just breathe in the air and cherish the moment! Enjoy the fantastic views over a landscape that looks like a cotton castle.
Landing and Champagne: The pilot lands the balloon by letting the air escape out the top of the balloon and then you will land back on the ground. Our crew will tidy up the balloon while you enjoy a glass of champagne to celebrate all together. You will have good times with Bodrum Balloon Tour and receive a certificate to show your friends you really hung 100 feet above the ground underneath a balloon.

Free Time: There will be enough time to explore Pamukkale after your Balloon flight. You can decide there if you would like to walk around and see the hot springs. There are a few pools open for people to walk and swim in the mineral water. There is also the option of going straight back to your hotel in Bodrum.