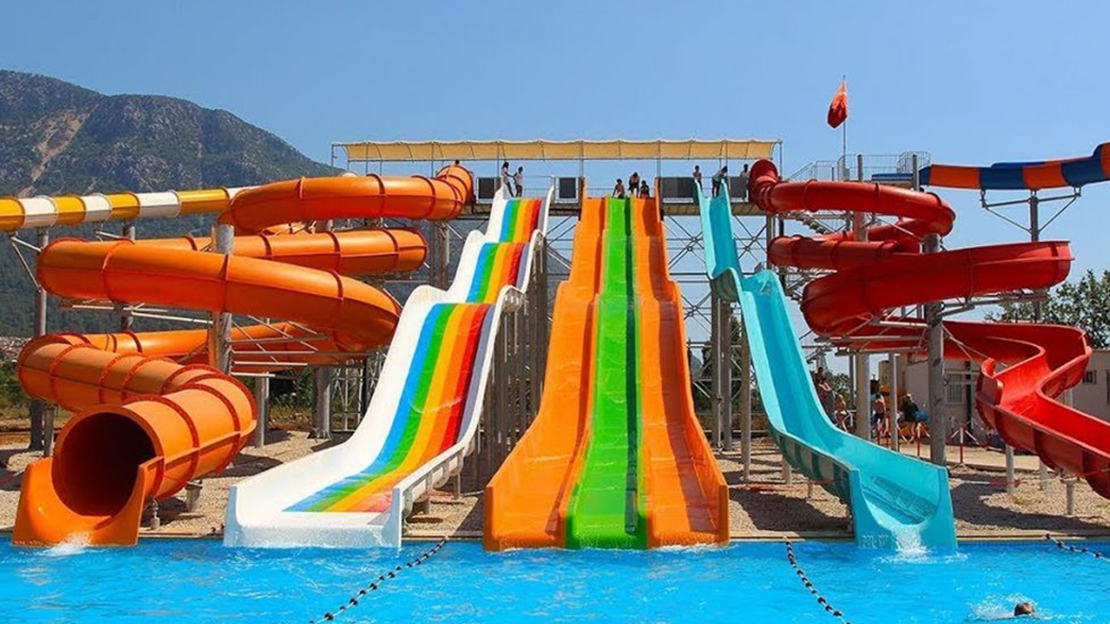 You can buy this tour on our e-commerce site.
Among the many things to do when in Bodrum, there are also some activities that combine both, excitement and relaxation. Visiting the Aquapark is definitely one of the most thrilling experiences one can do during the holidays. Spend a day full of fun, feel a flawless playful atmosphere in the splashing waters, increase your adrenaline levels and swim into thematic pools with this day trip to Aqua Park.


| Tour Details

Departure & Return Location
Bodrum Hotels (Check the meeting point list)
Departure Times
09:00 – 17:00
Availabilty Days
Everyday


| Highlights
Choose from 24 slides perfect for both adults and kids
Relax and sunbathe on one of the water park's loungers by the pool
No taxi hassles: Picks up and drops off from hotels all over Bodrum
Escape the crowds of beach for a day of wet and wild fun at the Bodrum Aquapark on this full day trip

| What's Included
Dance Shows & Foam Party
Waterpark Entrance Fee
Umbrellas and Sunbeds
Animation & DJ
Kid's Club
Showers

| What's Excluded
Personal Expenditure
Lunch and Drinks
Bungy Catapult
Zip-line


| Don't Forget
Always walk with slippers. Otherwise, you might slip on the wet floor easily.
Towels, Swimming Costumes, Sun Cream, Sun Glasses, Camera, Hat.


| Itinerary
Bodrum Aquapark has all of the expected attractions, as well as some surprising ones, with plenty of space for sunbathing. There are also four charming restaurants, where you can have a delicious traditional Turkish meal, as well as other usual restaurant food. The spacious park is also fringed with several retail outlets, where you can shop for some souvenirs or necessities. Aquapark is also offering a free Wi-fi and a car parking service.
09:00 – 17:00


| Tour Program
Pick Up: This amazing tour begins with a pick-up service from your hotel in bodrum. A comfortable, modern and fully air conditioned vehicle will pick you up and drive you for a short distance towards the Aqua Park.
The Facility: Aqua Park in Bodrum is located at a short distance from the city centre and covers an enormous area. The facility has a variety of slides and pools that are able to upgrade your experience and level up your enthusiasm. Restaurants and souvenirs shops are also available in order to offer you a truly special and comfortable day.
Slides: If you are looking for some extra fun and excitement, the park features many slides of all kinds. For those wishing to enjoy some extra adrenaline boosts, there are kamikaze and almost vertical slides. In case you wish to proceed with a more laid-back experience, there are slow-speed slides that can offer you and your friends and family a more moderate level of excitement.
Pools: Bodrum Aqua Park is not only about exciting and adrenaline boosting activities. More precisely, the park has multiple pools where you can enjoy swimming. These pools are in a quiet setting, away from the vibrant slides, and are ideal in case you want to relax or read a book. Comfortable sunbeds and lounges are available for the sun seekers.
Children Friendly: Families with children are also welcome to join this full day excursion to Aqua Park Bodrum. The facility has a specially designed area for children with shallow pools. In addition, in these areas, children can also enjoy safe rides in slides and spend their time in playgrounds.
A Safe Environment: This day tour puts safety first. For this reason it is important to note that the Aqua Park meets all the safety requirements. Specially trained lifeguards and crew are available in every activity inside the park.
Return: Your full day excursion finishes during the afternoon. A vehicle will be there for you in order to transfer you back to your place of accommodation in Bodrum.